Joan Boardman releases doves at the launch of Hathor. There are more pictures
The Boardman family frequently took pleasure trips on board Hathor
Rowing and Sailing for Britain
Humphry Boardman was an expert rower. He competed in the 1928 Olympic Games in Amsterdam representing Britain in the Double Sculls with has partner Denis Guye. They did not win a medal.
Humphrey in Amsterdam
Two years later, Humphrey represented England in the British Empire Games. He won gold medals in the Coxless Fours and the Eights.
In 1934, Britain entered the J class yacht Endeavour in the America's Cup which took place in Rhode Island. The skipper was Tommy Sopwith, the famous aviation pioneer. Following a disagreement with the crew, it was decided to take an amateur crew to sail Endeavour. Chris Boardman was one of the crew.
Endeavour was towed across the Atlantic by the MT Vita which was owned by Tommy Sopwith. Chris travelled on board.
The Vita
Once in America, Endeavour was fitted out for the races:
There were 5 races in all. Endeavour won the first two, but the defender, Rainbow, won the next 3 and so retained the cup. It was the nearest Britain came to winning the America's Cup in that era.
On board Endeavour
Chris Boardman went on the represent Britain at the 1936 Olympic Games. He was the helmsman of Lalage (pronounced La-La Gee) which competed in the 6 meter class at Kiel. Chris won a gold medal in this event.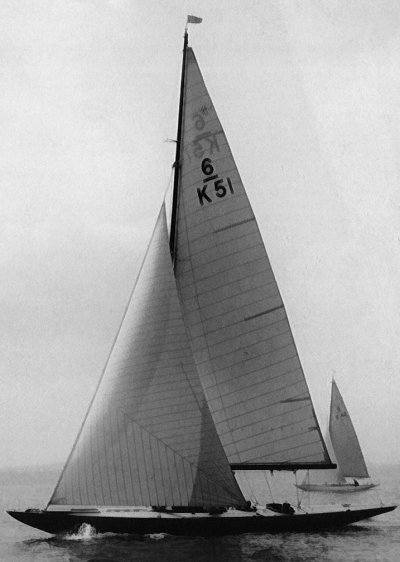 Lalage
Chris Boardman Boats
Chris sailed lots of different boats. The ones that seem to crop up most often in photographs are Cayenne, a National 14 class, (this boat often has sail number 9) and Clearwing a YBOD (usually sail number 14). Here are a couple of pictures:
Here we see Clearwing near How Hill
Cayenne racing at Fishley
Clearwing is still sailing and is in great condition as you can see below: