| | |
| --- | --- |
| | Garrett Family |
Of all the enquiries we get at the Ludham Archive, enquires about the Garrett Family as the most common. This is good news if you are related to the Garrett family as all these enquires mean we now hold lots of information and more is arriving all the time. So, keep looking in and feel free to ask.

There is a framed family tree of the Garrett family hanging in St Catherine's Church in Ludham. The picture below shows it, but you will need a high resolution copy to read the details. If this would be of use, just go back to our home page and send us an e-mail.
We also have a large collection of other more comprehensive family trees . Again, send us an e-mail if you want them.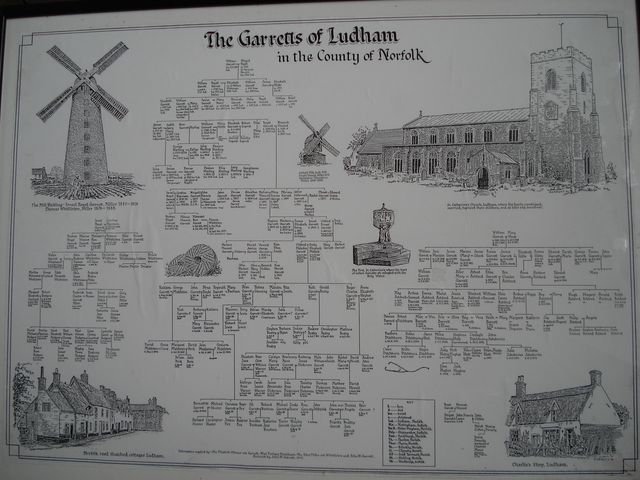 Please note that there are known to be a number of errors on this tree. More research has been done since it was drawn up. The following is a list of changes that have been brought to our attention:

The third generation of the pedigree confuses 2 Williams, the sons of Royal and James.

There is a grave in the churchyard (D1 in the archive index of graves). The inscription commemorates William Garrett (died 1844 age 97) and his wife Mary (died 1834). It also had an inscription to Royal Garrett died 1751 and so it was assumed that William was Royal's son, baptised in Ludham in 1745, but he was not.

Royal's son William died between October 1765 and October 1766 according to the records of Ludham Bacon and Walton Hall Manor Court held on 24 November 1768.The William in the grave is William the son of James baptised in Ludham in 1752. He would have been about 5 at his baptism if his age at death as recorded in the registers and on the tombstone is right.

After this William was baptised in 1752, his parents James and Elizabeth, moved away from Ludham, baptised a son, Royal in Thurlton in 1756 and another son, Royal, in Norton Subcourse in 1763.

Young William married Mary Shikel in 1775 in Mettingham and they baptised 8 children there: Hannah in 1773 (grandmother of the Mary Ann Ellis shown on the pedigree); Elizabeth in 1775; James in 1776; Jane in 1778 (she became the 3rd wife of William Harling but George, Lucy and Eleanor Harling shown on the pedigree were the children of his 2nd wife); Lydia in 1781; Royal in 1784; Amy in 1787 and William in 1789 (died 1868).

William(baptised 1752), Mary and family returned to Ludham in 1807 when William inherited the land of his cousin James, baptised 1746 the son of Royal, as recorded in the manor court books. Cousin James had died without children and all his siblings had predeceased him.

There are also transcription errors on the pedigree:
Hannah Garrett daughter of Royal and Elizabeth nee Drake was baptised. 10 Jan 1748 (new style date).
Lucy Garrett daughter of James and Judith nee Trory was buried in Ludham in 1808
Abigail Garrett duaghter of Royal and Hannah nee Vincent died in the USA in 1891
Caroline Garrett bp 1874 was the granddaughter of William and Jane nee Marston and daughter of their son William.
Edward Garett son of Edward and Sarah Maria nee Culley was baptised in Oct 1858.
Clifford Malcolm Garrett was born on 12th September 1892

Thank you to Liz Draper for these corrections



Abigail Garrett



Royal and Hannah Garrett had a daughter Abigail Royal Garret.

Abigail's first husband was John Francis Larter, who was the son of John Larter, Miller of Halvergate and Susanna his wife

John Francis left England in 1851 shortly after the census and came to New York where he apparently drowned. Abigail left England in 1852 in the company of her four children and a married man named John Thomas Clifton. She and her family made their way to West Virginia, where in 1856 Abigail and John Clifton were married and both claimed they were widowed (although his wife in England was still alive). They had three children of their own. They are buried in West Virginia USA.


It seems that that the hardships of her new home were not kind to her. They originally settled in a very rural area of West Virginia and she would have had to work very hard. I don't know if she and her husband actually owned land here but her son Royal Jethro Larter carried on the family tradition and became a Miller.

Thanks to Kristie Cornett for this information.

We hold two sets of family trees showing descendants of Abigail. These have been supplied by Kristie Cornett and by Allison Kessinger, both from West Virginia USA. There is also a collection of photographs of American descendants. E-mail for details of all the American documents and photographs.


Abigail Garrett

The following photographs are included by kind permission of Edna Miller.


Israel Royal Garrett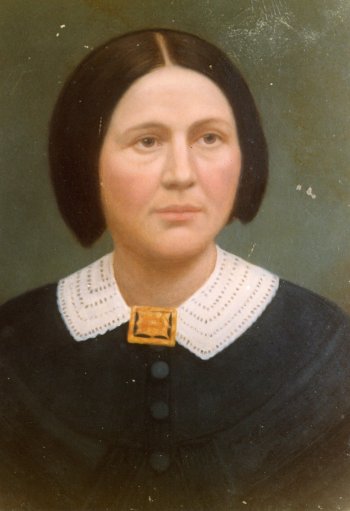 Caroline Harrison (Israel's Wife)

Israel and Caroline lived at The Mill, Hickling and are buried in the churchyard there.



The French Family



The French Family from Hull are descendents of the Garretts and they have also supplied us with several very comprehensive family trees and a collection of relevant documents (birth, marriage and death certificates. They are also descended from Israel Royal Garrett and Caroline through their daughter Bertha Rosetta Garrett who married Arthur William French. Send us a e-mail if you want copies of the documents and tree as they are too large to put on this site.



Abiathar Garrett



Abiathar was the son of Royal Garrett. He was also a miller and he worked the post mill in Lover's Lane Ludham. The site of this former mill can still be clearly seen but we have not been able to find any photographs. Please let us know if you have one.
Abiathar's son Joseph emigrated to Australia and died in Kogarah, New South Wales in 1932. He travelled out with his wife Ellen on board the Lochee. A descendant of his, Paul Garrett, is currently working on a family tree.



Connected Families



We think that there is a connection between the Garrett and Bond families of Ludham, so the Bond information may also be relevant to your enquiries.
The Garrett Family appear to be descended from the Ryall Family (we have a tree). This may well be the source of the name "Royal" which appears in so many Garrett people's names.
It looks like the Garrett and Neave Families are connected. The French family are currently investigating this. Aaron Neave was a well known Ludham farmer. More details on the Neave page and we will update the information as we get it.
Also connected is the name Barrett.